TM 04 - Portioning unit
Microprocessors control the rationing process and can be installed on all hydraulic machines. Optimal rationing can be achieved every time with this control system.
The portioning unit has many advantages: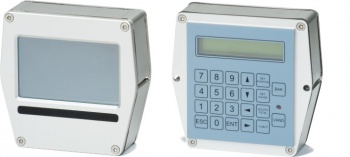 20 different portion sizes at individual intervals
possible to change the portion and interval sizes
weight control
reduction/increase of all portions from 1-999%
automatic rationing
portion text can be self-determined
total kg – amount for individual portions
total kg – amount for all portions
waterproof device
TM 2 in 1
Fur farms are getting bigger and bigger, which puts a higher demand on your feed computer. The feed computer TM 2 in 1 is a further development of the popular TM 04.
TM 2 in 1 is able to administer individual feedings WITHOUT the handheld device within a specific range. When individually adjusting the animal's feed portions with the handheld (for example, during whelping), it is possible to transfer the new feeding data to the TM 2 in 1, using Bluetooth. The capacity is approx. 30 000 cages. After this, the feeding can begin. It is also possible to continue to adjust the portion sizes for the animals on the hand terminal. This allows great flexibility, as feeding can begin before the feeding adjustments have been completed. In addition, you are completely free from plugins and wires between TM 2 in 1 and the handheld terminal.

During individual feeding, the TM 2 in 1 allows the possibility to: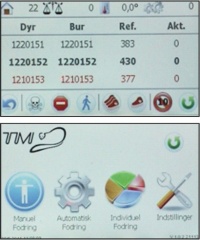 add or remove animals
 remove animals from the feeding list
adjust feed amount
In all of the menus, you are able to see::
feed temperature
total feed amount
feed pump speed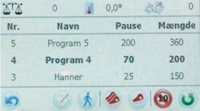 Additionally, the TM 2 in 1 has a feed pump – auto reverse – function, as well as water rationing in 10 steps. TM 2 in 1 is very user-friendly, with a colour touch display and logical icons. The device itself, is of solid aluminium and is directly interchangable with the TM04 model.